For Caterers
Let us worry about taking orders. You worry about growing your business.

USDA Compatible
Compatible with the National School Lunch Program (NSLP) for confidential free and reduced cost meals.

Secure
256-bit encrypted SSL.  State-of-the-art data center.  Your data is safe with us.

Support
If it suits your needs, let Hot Lunch Online assist with customer service.

Free Upgrades
Stay up-to-date with the latest and greatest features with no additional cost.
All the features you need
Unlimited number of schools, grades, campuses
Supports Breakfast, Lunch, and ala-carte

Unlimited number of meals per day

Unlimited number of portion sizes
Supports custom menus per school

Cascading pricing

Generate powerful reports
View business-critical metrics
Advanced user management
Publish updates and news to your clients
Families need only one login
Fully white-label compatible, to brand just like your business
Mass email reminders to your parents
Desktop, tablet and mobile friendly web interface
Integrated ordering with SYSCO
Truly affordable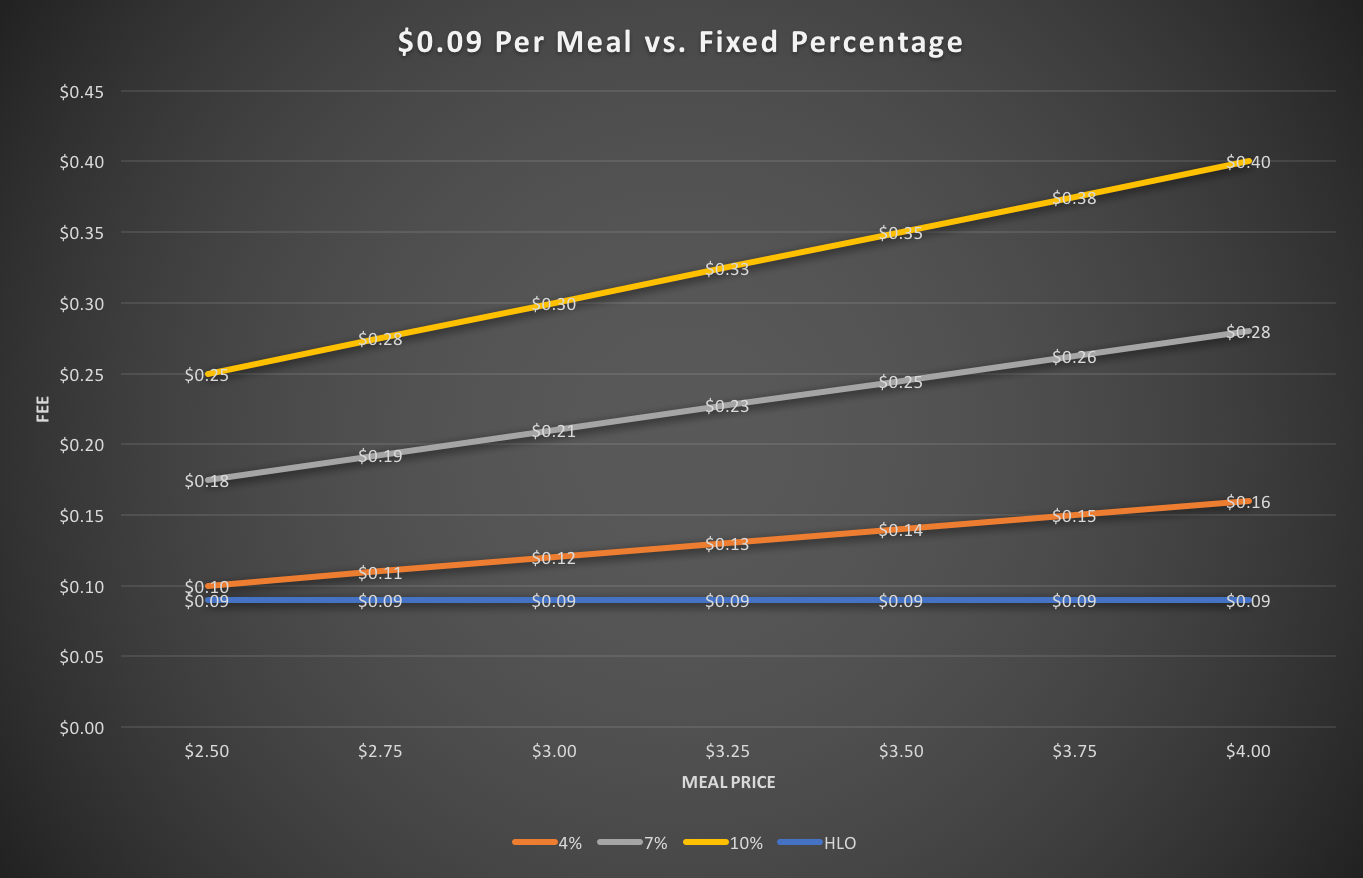 Most online ordering systems charge a flat percentage of gross sales. They typically range from 3% to 7%, and they typically include your credit card or gateway fees. Credit card fees are usually based on a transaction fee plus a percentage of gross sales. When the ordering software tacks a percentage on top, the school or caterer now has a fixed increase on gross sales of 3%-7%. At Hot Lunch Online we are a little different. Our low price of .09 per meal is separate from your credit card fees or gateway fees. Plus, we offer free add-ons with a meal purchase. When a student orders a meal and a milk on the same day, we only charge 9 cents. If you are paying 3%, you pay 3% of the meal price and 3% of the milk price. The school or caterer may also add a service fee onto the menu cost to cover the fees if they choose.
Full suite of on-demand reports
Production sheet – Excel spreadsheet with one day per worksheet, containing the totals for every School on that day
School order list – List of every user and their purchases for a given School and time period
School sales report – List of total sales for a given School and time period
School order summary – Total number of meals ordered each day of every menu item type for a given time period
Account email list – List of email addresses for bulk mailing
Transaction list – View details of every transaction in the system
Statement details – Hot Lunch Online statement detail and explanation of how monthly fees are calculated
Menu item list – Printable list of all menu items in the system
Free and reduced meal report – Counts of Free/Reduced/FullPay meals by School
Action log report – Log of some of the important actions that can occur in the system.
Balance report – Reporting on Account Balance.
Cart report – Reporting on Shopping Carts.
Shopping List – Generate a list of ingredients by vendor.
Signup Today For Instant Access
We're web experts.  You're a food service expert.  Let's make it happen.